From November 4-13, 2022, a group of students and faculty from four countries and five US states, and those in four of BGU's degree programs gathered in the Southern US city called Memphis, Tennessee for an immersion. There was no way for them to know what they were about to experience there. Immersions offer our students the only opportunity in their degree plan to meet together in person for 10 days to exegete a city's culture and its response to the most vulnerable populations there. The Memphis Immersion was no exception.
Prior to the residential days in the city, students studied and analyzed how the city acquired its slogan "Grit and Grind" as Memphis recreated itself many times over since its inception in 1898. From a cotton and tobacco field economy to one of the largest distribution centers globally and domestically and the music capital of the world, with blues, jazz, rock 'n roll and soul music all having their roots there, Memphis has become one of America's leading cities and a beacon for the world in religion, education, industry, music, and politics.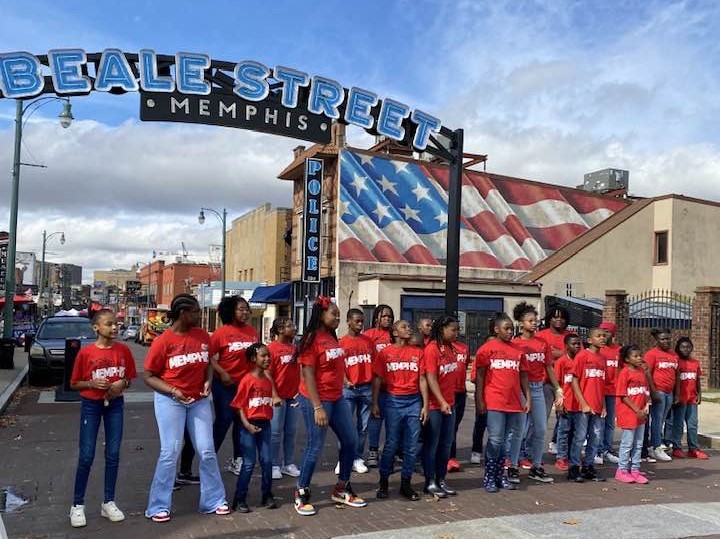 Over the 10 days, students visited the high and low places in the city. High places included the City of Memphis Mayor's Office where students prayed for the staff and the many programs and missions they have launched to help struggling citizens. We were especially impressed with the youth programs for those ages 16-24 who did not graduate from high school but needed to find productive ways to invest their time and efforts. There were many nonprofits, churches, and city and state agencies that had joined together to increase opportunities ad open doors. Whether you were homeless, experiencing domestic violence or sex trafficking, or a refugee seeking to settle in the city, God had given someone a burden to help and a means to do it.
Other high places included a trip to the top of the 321 feet/ 32 stories tall Bass Pro Building (formerly known as the "Pyramid"). The remodeling of this building from a stadium to a general-purpose sporting goods store, hotel, restaurants, and tourist site costs the city over $70 million, but saved a historical monument that hosted artists such as Naomi and Wynonna Judd, Bruce Springsteen, Prince, The Grateful Dead, Michael Jackson, Lisa Marie and Priscilla Presley, Tony Bennett, and a host of rappers for the World's Greatest Rap Show Ever. It was home to Memphis-based sports teams such as the Memphis Grizzlies and the University of Memphis' Tigers and hosted international events such as Moscow's Bolshoi Ballet.
On Sunday, students attended Bellevue Baptist Church, the former location for the late Dr. Adrian Rogers and the Love Worth Finding ministry, and the largest church in the city. They had lunch at one of the oldest restaurants in the city, Coletta's, made famous for its barbequed pizza.
One other high location was the Sears Concourse Building. The City of Memphis took an abandoned Sears store, one of the largest in the region, which had been unoccupied for nearly 20 years and was an eyesore for the community and reinvented it into a modern multi-purpose community activity building with 750 high- to medium-end apartments on the top floors and a host of restaurants, art galleries, theaters, healthcare clinics, a charter school, and even a YMCA on the lower floors. Students who were born and raised in Memphis shared stories of how the old Sears Crosstown Store was the center of the Sears catalog business and holiday shopping. It was just another example of how Memphis people fight back and reinvent over and over again.
Despite the grandeur of the high places, students also visited some low places. We walked through neighborhoods where the annual household income was less than $20,000. We saw families crowded into small homes or apartments because they could not afford more. We saw locations where crime had occurred the night before and where drugs and criminal behavior of all sorts was the norm. We saw a homeless shelter for those being discharged from the hospital with nowhere to go and community homeless projects designed to just get a homeless person off the streets for a while. We met a man who worked with those who were incarcerated and those who were new immigrants to the city. We visited clinics that serviced uninsured citizens and saw the effects of the healthcare industry challenges faced by many of the citizens. We met a pastor who was growing a farm in the heart of one of the poorest neighborhoods so that its citizens could get fresh fruits and vegetables since there are no area grocery stores. We met a woman who is dedicated to helping young girls who are victims of human trafficking. We saw the negative impacts of unemployment and lack of job training, and the drastic measures that some citizens resorted to just to have food.
There was light in the midst of this city's darkest days of history to its current status as one of the most dangerous cities to live in the South. As in most cities and urban settings, affordable housing, food, shelter, clothing, and other basic needs are in short supply. There were several groups of people whom we saw being serviced by volunteers and program members who were the hands and feet of Christ in the city. In all, we saw 29 city leaders working to bring Shalom to the city. It was amazing to see people from all walks of life coming together to help the citizens in that city be transformed through education, religion, job placement, personal assistance, and incarnational sacrifices.
The Memphis Immersion was a spiritual journey for us. We grew together as individuals and collectively as a group as we shared the high and low places in this city. Standing in the place where Dr. Martin Luther King was assassinated and at the I am a Man Memorial (which honors the sanitation workers strike which was the reason for Dr. King's visit) will take you on your own journey of reconciliation. It was evident that God was at work in Memphis. As we saw those who could be somewhere else doing something else with their lives choosing to lie among those whom they serve, it transformed us. The students who attended have reported transformational life changes.
Dr. Paulette Jordan
DTL Program Director
Here are some quotes about the students' experiences:
"The Memphis Immersion provided a wonderful opportunity to learn about and see transformational leadership in action. The surprise for me was the spiritual growth that I experienced through encouragement, vulnerability, and the sincerest concern for me personally and professionally.  I'm changed because of this." Matthew Flippen/DTL
"Memphis is a paradox; out of a history of being submerged in unpleasantness like none other, it has risen to lead a visual contextual representation of Chriss's incarnation in the contemporary world." Ronke Akinnola/PhD.
The trauma of Memphis is being exchanged for hope through the Spirit of God at work in the many humble transformational leaders we met through the Immersion. I am growing as a leader through my experience with the Memphis leadership, fellow students, and professors." Judy Capps/MATL