BGU's family includes faculty, students, staff, graduates and partners in Russia, Ukraine, and neighboring nations who are deeply affected by the terrifying invasion over the past week. Please pray with BGU Regent Chairman, Dr. Willy Kotiuga along with our partner school the Ukrainian Evangelical Theological Seminary in Kyiv. 
.....
Lord, your word clearly states, in Deuteronomy 27:17 Cursed is anyone who moves their neighbor's boundary stone.
Oppressors are trying to move the boundaries of Ukraine. However, their claims are based on lies, and their lies are far from convincing.
We pray Ephesians 5:11 that Ludmila L. posted from Ukraine yesterday, Expose these things for the sham they are.
As Isaiah encouraged the remnant, we ask to "Strengthen the feeble hands, steady the knees that give way; say to those with fearful hearts, be strong, do not fear; your God will come, he will come with vengeance; with divine retribution, he will come to save you." (Isaiah 35:3,4). We call on you to hear the cries of Ukraine.
The Israelites cried out to you, and you heard them. "The Israelite cry for help has come to me, and I've seen for myself how cruelly they're being treated by the Egyptians." (Exodus 3:9).
As with the Israelites, we pray you hear the cries of the oppressed. You see how cruelly the oppressors are treating them.
Not only does Ukraine cry out, but the world also stands with Ukraine and implores you to intervene. Then all the people shall say, "Amen!" (Dt 27:17b)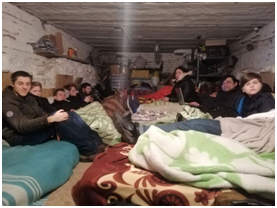 BGU has partnered with the Ukrainian Evangelical Theological Seminary (UETS) in Kyiv. Partner with them in prayer. The students are safe, but UETS is on the direct path of Russian forces on their way to Kyiv. They spent last weekend in the seminary's basement, where BGU taught Theology of Work courses.
 Dr. Ivan Rusyn, President of UETS, sent out the following request for prayer last week:
Pray, please, for Ukraine to remain the place where God is on the move, reaching out to neighboring nations of Eastern Europe and Central Asia with the Gospel.
Pray for Ukrainian Evangelical Theological Seminary to continue carrying out its mission of training national church leaders in the full scope and equipping the church with what it needs in different circumstances.
Pray about our faculty, staff, students and graduates, especially those serving as army chaplains, pastors and counselors, for them to be a source of support and encouragement for everyone in fear. 
We firmly believe that our God is mighty enough to keep everything under His control. We also believe that in such moments the voice of hope, truth and reconciliation is of critical importance. Whatever happens, let His will be done, and mission accomplished through us as His beloved children whose prayers He is always eager to hear!
.....
Send Ivan a note of encouragement as he works through the hundreds of graduates to bring hope to churches www.uets.net  during this time of anxiety.