February 25, 2023 at 5:00pm until February 25, 2023 at 7:30pm Eastern
The Annual BGU Alumni Association General Meeting is just a couple days away!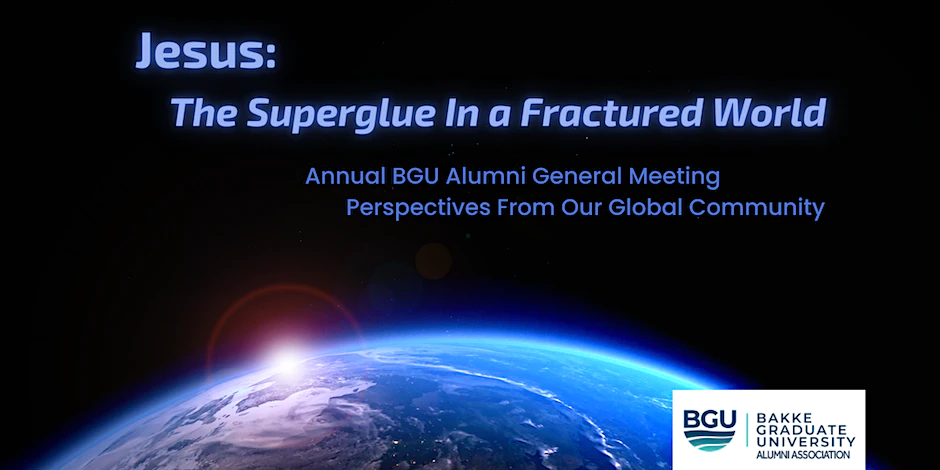 Please watch the video recording HERE.
Jesus: The Superglue In a Fractured World is this year's theme and our global panelists will explore the topic in a lively conversation. And this year, you'll be invited to join in the conversation – we've set aside some time for Break Out Rooms so we can all get involved!
You'll need to register for the event so we know how many cupcakes we need to order – JUST KIDDING, this is a Bring Your Own Cupcake event! But your registration will help us ensure we have the tech tools available to serve all of us well. 
The details are below. We're  looking forward to seeing you there.
Date: Saturday, February 25
Time: 10:00 AM – 12:30 PM US Central Time (-5 UTC)
 Registration:
https://www.eventbrite.com/e/bakke-graduate-university-alumni-general-meeting-tickets-541237575157
REPORT about the Gathering:
This is the 2nd Alumni annual virtual meeting coordinated and hosted by the BGU Alumni Association, the first being in February 2022. One objective of this alumni gathering was to facilitate the meeting of BGU alumni from all parts of the world for the sharing of best practices in the field of missions and evangelism for Christ centered urban transformation, organizational transformation, community development, church leadership and personal transformation. The 2nd objective of the annual meeting was to facilitate the networking of BGU alumni who are scattered and strategically placed in diverse geographical locations, cultural and political settings and organizations for the strengthening of their work in Christian missions and transformational leadership.
This year's meeting was hosted by Dr. Bill Tenny-Brittian, Alumni Association President, and the program included:
1. Panel discussion – moderated by Dr. Leroy Hurt (Alumni Ass. Vice-President)
2. Guest speaker- Dr. Martine Audéoud (BGU Alumni & Associate Academic Dean)
3. Book promotion
4. Break-Out Room session
The panel discussion was guided by the theme of the meeting within the context of the missional work of the four members of the panel who were from four different geographical locations, cultural, political and religious contexts, namely:
i. Dr. Bill Tenny-Brittian – (USA)
ii. Dr. Joy Wilson - (Guyana)
iii. Dr. Ana Paula Bogni - (Brazil)
iii. Dr. Krisztina Olah – (Hungary)
The breakout rooms were an extension of the panel discussion and so there were four groups each co-facilitated by one of the panelist. This session facilitate the discussion to be more focused on the meeting participants and so allowed for them to ask questions and share their views.
Dr. Martine Audéoud gave a very inspiring and motivating presentation which directed us to reflect on our BGU dissertations as they relate to the theme of the meeting and our ministry and mission efforts in our various contexts and experiences.
Three BGU authors, Dr. Dot Reju, Dr. Bill Tenny-Brittain, and Dr. Lauren Speeth promoted their publications via a short video.
You may view the recording of this meeting via this link: