Bill Tenny-Brittian Steps Down as President of Bakke Graduate University Alumni Association
After six years of service, Bill Tenny-Brittian has announced his resignation as President of the Bakke Graduate University Alumni Association. Under Bill's leadership, the Alumni Association has made significant strides in promoting alumni engagement with the university and advancing the university's mission.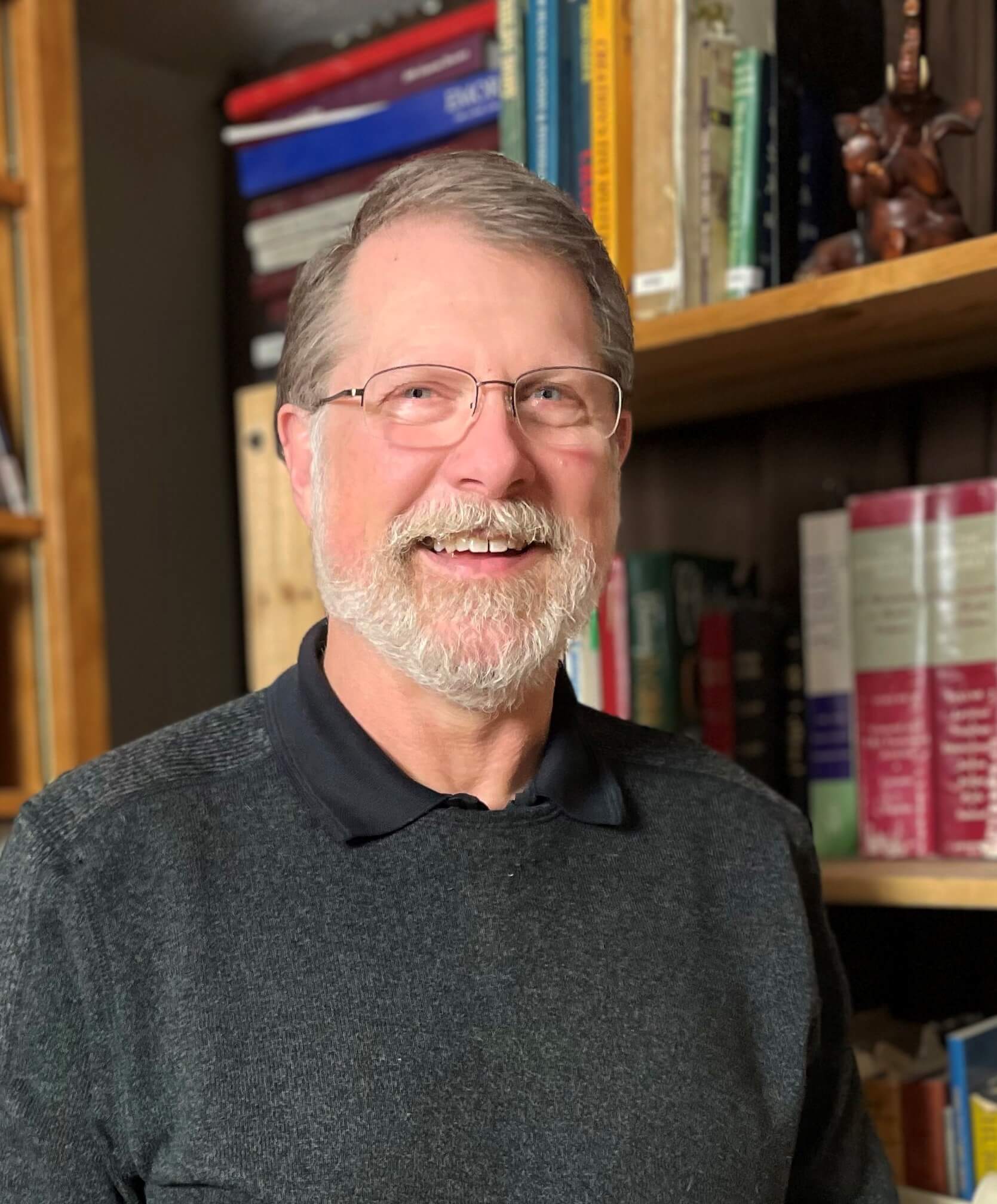 Bill graduated with his DMin from the Northwest Graduate School, now Bakke Graduate University, in 2004. Before that, he was a Candler grad (Emory University) with an MDiv and also graduated from the Baptist Bible Institute, now Florida Baptist College, with a BTh.
 In professional ministry for just shy of forty years, Bill was ordained in the Christian Church (Disciples of Christ) and served as pastor with the Southern Baptists, the United Methodists, The Presbyterians (USA), the Christian Church (DOC), and the Christian Church independent. After serving with The Effective Church Group as a church consultant for fifteen years, Bill became the president of the ECG as well as servings the Raytown Christian Church in Kansas City, Missouri. He's the author of ten books and is the managing editor of Net Results magazine, America's oldest Church Growth and Evangelism magazine. He's married to the Rev. Dr. Kris Tenny-Brittian (BGU 2005) and they make their home in Columbia, Missouri with their four Old English Sheepdogs. 
The Bakke Graduate University Alumni Association began with Bill as its first president and launched initiatives to promote BGU's mission and enhance alumni engagement.
 Annual Meetings
One of the significant accomplishments of Bill Tenny-Brittian during his tenure as President of the Bakke Graduate University Alumni Association was the institution of annual meetings. The purpose of these meetings was to promote alumni engagement with the university and to create a sense of community among graduates. The annual meetings brought alumni together from all over the world to share their experiences and connect with one another.
Quarterly Webinars
 Another initiative launched under Bill's leadership was the institution of quarterly webinars. These webinars were designed to enhance the ongoing development of BGU alumni by providing them with access to high-quality training and resources. The webinars covered a wide range of topics, including leadership development, spiritual formation, and cross-cultural communication.
 Social Media Engagement
 In addition to the annual meetings and quarterly webinars, Bill also oversaw the Alumni Association's efforts to become more active on social media. Social media platforms such as Facebook, Twitter, and LinkedIn have become essential tools for alumni engagement, and Bill recognized their potential early on. By using social media to promote the Alumni Association's activities and events, Bill helped to increase awareness of the organization and to create a sense of community among alumni.
Moving Forward
As Bill Tenny-Brittian steps down as President of the Bakke Graduate University Alumni Association, the organization is well-positioned to continue its mission of promoting alumni engagement and advancing the university's goals. The annual meetings, quarterly webinars, and social media initiatives that were launched under Bill's leadership will serve as a strong foundation for future growth and development.
The Bakke Graduate University Alumni Association is grateful for Bill's leadership and his many contributions to the organization. We wish him all the best in his future endeavors and look forward to building on his legacy as we continue to support and engage with our alumni community.
Regional Chapters of the BGU Alumni Association - Update
One of the mandates of the BGU Alumni Association is to foster the establishment of regional alumni networks across the globe to facilitate networking of alumni in their efforts to work together as a team to address common issues. The Alumni Council is therefore available to assist any BGU alumni who is interested in the establishment of a regional group within their location.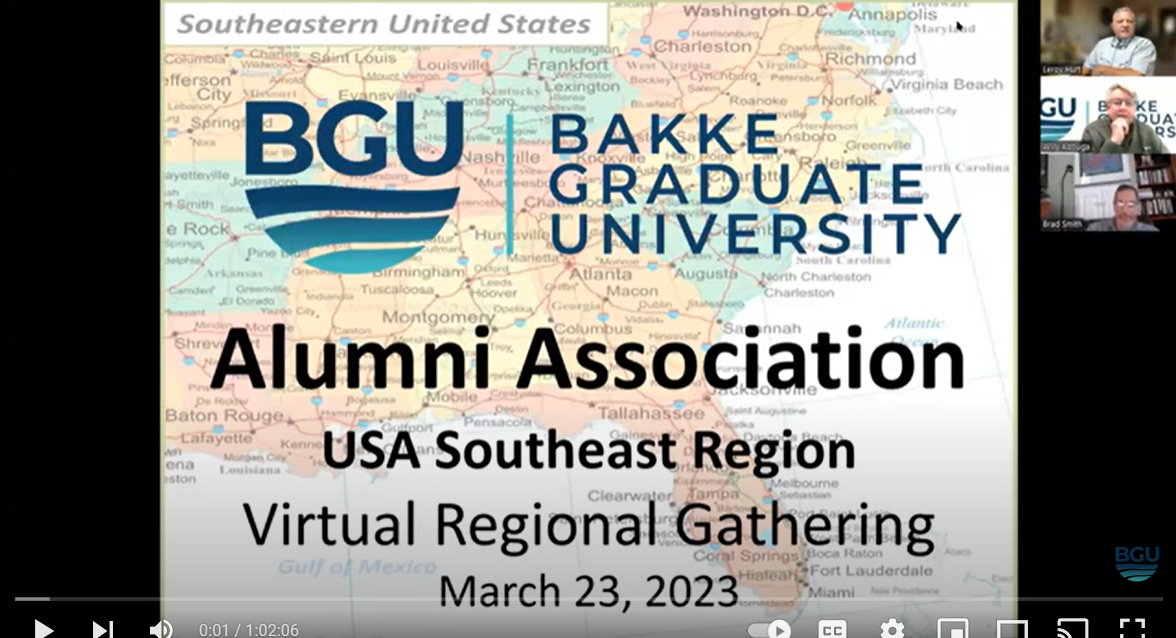 Bakke Southeast USA region alumni webinar addresses ChatGPT
On March 23, 2023, ChatGPT hosted a webinar featuring Willy Kotiuga, Chair of BGU's Board of Regents and recently retired Senior Director of the Power Systems Consulting Group of SNC-Lavalin. The topic of the webinar was the use of ChatGPT in converting notes from a theology discussion group into a book.
The webinar began with Willy providing some background on ChatGPT and its academic implications. He explained that ChatGPT is a large language model trained by OpenAI, based on the GPT-3.5 architecture. It has the ability to generate human-like text, which has many potential uses in academia, including assisting with writing research papers, generating lecture notes, and even creating teaching materials.
Willy then discussed the background of his idea to convert notes from a theology discussion group into a book. He explained that he had been attending the group for some time and had accumulated a wealth of notes that he believed could be turned into a valuable resource for others. However, he had struggled with how to turn those notes into a cohesive manuscript.
Willy then demonstrated how ChatGPT had helped him to overcome his writer's block and convert his notes into various forms, such as sermons and Bible studies. He showed the audience how ChatGPT could generate citations and verse quotations for sermon and Bible study outlines, which saved him a significant amount of time and effort.
In addition to these demonstrations, Willy also discussed how ChatGPT could quickly develop a SWOT analysis. This is a useful tool for businesses and organizations to evaluate their strengths, weaknesses, opportunities, and threats. Willy showed how ChatGPT could generate a comprehensive analysis in just a few minutes, which could save organizations a significant amount of time and resources.
Finally, Willy demonstrated how he had used ChatGPT to convert his notes into a manuscript. He showed the audience how he had fed his notes into ChatGPT and then refined the output to create a coherent and well-written manuscript. He emphasized that while ChatGPT had been a valuable tool, it was still important for him to review and edit the text to ensure its accuracy and readability.
Overall, the webinar provided valuable insights into the potential uses of ChatGPT in academia and beyond. Willy's demonstration of how he had used ChatGPT to convert his notes into a book was particularly impressive, and it showed how technology can be harnessed to overcome the challenges of writing and research.
 The link to the webinar can be found HERE.
Establishment of the BGU Caribbean Regional Alumni Association
The Secretary of the BGU Alumni Council, Dr. Marlene Hines who is a native and resident of Jamaica has been working on the establishment of a Caribbean regional chapter of the BGU alumni since 2022 in response to the guidance of Dr. Gwen Dewey which resulted in her assignment to the Alumni Council.
BGU's former President and newly appointed Chancellor, Dr. Brad Smith in his efforts to make this BGU Caribbean alumni network a reality, invited Marlene to make a presentation to this effect at a virtual meeting of the Evangelical Association of the Caribbean (EAC) and the over 60 BGU Alumni from the countries of the Caribbean region, on March 9, 2023.
The first follow-up activity to facilitate the establishment of the BGU Caribbean Regional Alumni Association is the invitation to ten members of the group who were present at the March 9 meeting and who also indicated interest in the effort, for the arrival at a date for the facilitation of the group's 1st planning meeting. The invitation was sent via Doodle on April 5, 2023 and we are expecting all ten persons to respond by April 30, 2023.
Link to the recording of the March 9, 2023 meeting: https://youtu.be/oWvlvcZduIU