Warm greetings to everyone who is gathered together in Dallas and to those who are joining us online for the 2023 commencement ceremony for Bakke Graduate University. First, please allow me to share a hearty CONGRATULATIONS to all of our 2023 BGU graduates, and to friends and family members who have encouraged and supported you along your academic journey. This is truly a milestone in your lives, and I'm thankful to be a part of it.
It has been a great privilege to serve as the Academic Dean at BGU over these past few years as our global graduates have progressed through our five graduate-level programs. I've watched in admiration as our world class staff and faculty have coached and guided our amazing students through all of the mountaintop experiences and deep valleys of struggle that come with navigating graduate school while juggling work, leadership, and family responsibilities. This group of graduates is particularly remarkable in that they have persevered through a global pandemic to equip themselves with new skills to thrive in the next season of their lives. You deserve kudos!
While I've enjoyed serving as the academic leader at our institution, I'm stepping into new horizons as today marks my first official day on the job as BGU President. I have to admit that being a university president was not in my plans while I was growing up. I really struggled academically in school at times. I am up here today speaking publicly, and I've grown comfortable with it over the years as a pastor and as a teacher. My first public speaking attempt in the sixth grade, however, was a complete disaster. When I got up in front of the class to speak, and I couldn't make any words come out of my mouth. It was so embarrassing!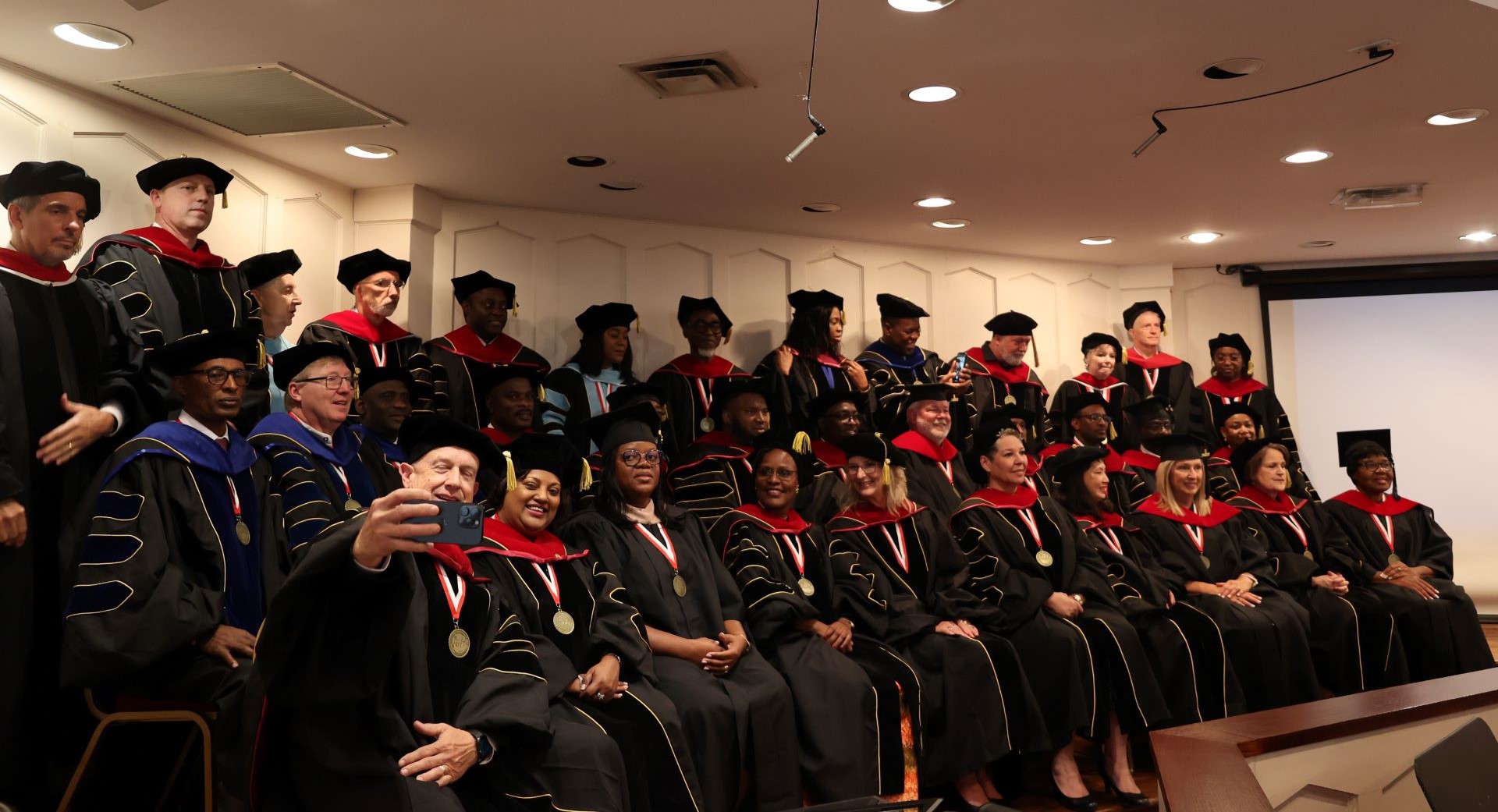 Things didn't get much better the following year. We were given several months to complete an engineering project in our science class. We were asked to create a vehicle that could roll down a ramp. Prizes would be awarded to the students whose self-propelled vehicles rolled the farthest. I somehow forgot about the assignment, and when I arrived at school that morning, I got that sinking feeling in my stomach as I noticed my classmates strolling into school with finely crafted small cars and trucks delicately carried into the science room for the competition later that day. These successful students had clearly been working on their intricate designs for months, and I had nothing. I thought all morning about what to do. At lunch time, I guzzled a small carton of chocolate milk. I poked holes in the sides of the milk carton, slid two plastic straws through the holes to serve as wheel axils. I snapped off the round parts of four plastic spoons, borrowed some tape from a friend, and taped the four spoon-wheels to my straw-axils. When the bell rang for me to go to science class, I walked sheepishly into the classroom with my sorry excuse for a driverless vehicle. The teacher welcomed us to the competition, and calmly instructed us that the only way that we could possibly fail this assignment was if our vehicles failed to make it all the way down the launch ramp. I watched in admiration as the other cars seamlessly sailed down the ramp and easily rolled meters across the large room. The time inevitably came for my car to be placed at the top of the ramp. I could barely breathe as I put my vehicle in place, and I gave it a little tap to initiate its maiden voyage. I watched in sheer horror as my chocolate milk carton creation slowly slid down the upper part of the ramp before strongly veering left and falling off of the ramp about half way down, leaving a trail of chocolate milk drops in its wake. My teacher just shook his head in disgust as my classmates chuckled at my futility. My mechanical engineering aspirations died on that particularly painful day in middle school.
Graduates… I'll pause in my story here to reflect on a few things. Although I struggled in my first public speaking attempt, we serve a redemptive God who will work with just about anybody in any place to accomplish his purposes in this world. I'm sure each of you have stories of failure that the Lord has redeemed and shaped into something beautiful. BGU graduates, I urge you to learn to reflect on the meaning of your experiences, and invite the Lord in to bring about transformation. Areas of our greatest weakness can be transformed into some of our greatest strengths. Although my milk carton car didn't make it down the ramp in middle school, I learned about ingenuity that day. I learned that, when faced with challenging circumstances, I could think through strategies and come up with creative solutions. I may have failed at my attempts that day, but over time I learned to be adaptive and solution-oriented in the midst of challenges. BGU graduates are resilient, we take risks, we're creative, and we persevere. Bring those fierce qualities into every aspect of your lives.
Things did get somewhat better as I progressed through high school and college. It wasn't until I enrolled in the Doctor of Ministry program at BGU where I truly started to take off in my confidence as a student and as a leader. Bakke Graduate University truly changed my life.
In 2006, I was in the city where I grew up, Pittsburgh, with my wife, Julie, and my two young daughters, Kyra and Sierra. I helped to start a new urban ministry… a youth mentoring initiative called LAMP. We made several mentoring matches, and for the most part things were looking pretty good. I was doing well, I thought. I was kind of a big deal. I charged into my first urban neighborhood with reckless abandon. By this point in the story, everyone probably knows what happened next. Things got hard. We ran into the unexpected challenges that are so prevalent with so many moving parts in an urban neighborhood. Mentoring matches started to close early because of cross-cultural misunderstandings. One of our mentors was caught up in the middle of a drive by shooting, and he risked his life to protect several of the children that he was mentoring. Fear set in, and I suddenly had a hard time recruiting enough mentors to match the growing number of children who wanted a mentor. I quickly learned that there were people, even other leaders in the community, who did not want me there. Soon, I even started to question if I should be there. Should my church be there? What were we even doing? This whole initiative was starting to look like it was going to fail. It was just too hard.
Graduates, I'm sure many of you can relate. Although you come from different countries, different cities, and different sectors of society, you can probably relate to the reality that we live in a complex world that is globally interconnected and rapidly urbanizing. Many of our BGU students and alumni work in powerful places, living out their unique callings in executive leadership at businesses, nonprofit organizations, and often at the government and policy level. Leaders at that level face unique challenges that can quickly become overwhelming. Economic exploitation, political corruption, and religious complicity often have a significant impact in places of power. BGU also has many students and alumni living and working on the margins of society where the full brunt of unjust systems manifest in pain and suffering at the scope of which we've never witnessed before in human history. The gaps between the haves and have nots seems to grow every year, regardless of geographical location. More people were killed in violent conflicts during the past century than in all other centuries in human history combined. This 21st century has not gotten off to a great start with regard to reducing violence, poverty, and divisiveness. We all experience break downs in the family, in our neighborhoods, in our cities, in our countries, and throughout the world. While these challenges are global, they are also uniquely local. None of us can escape the brokenness that seems to be progressing in this Present Evil Age that we live in.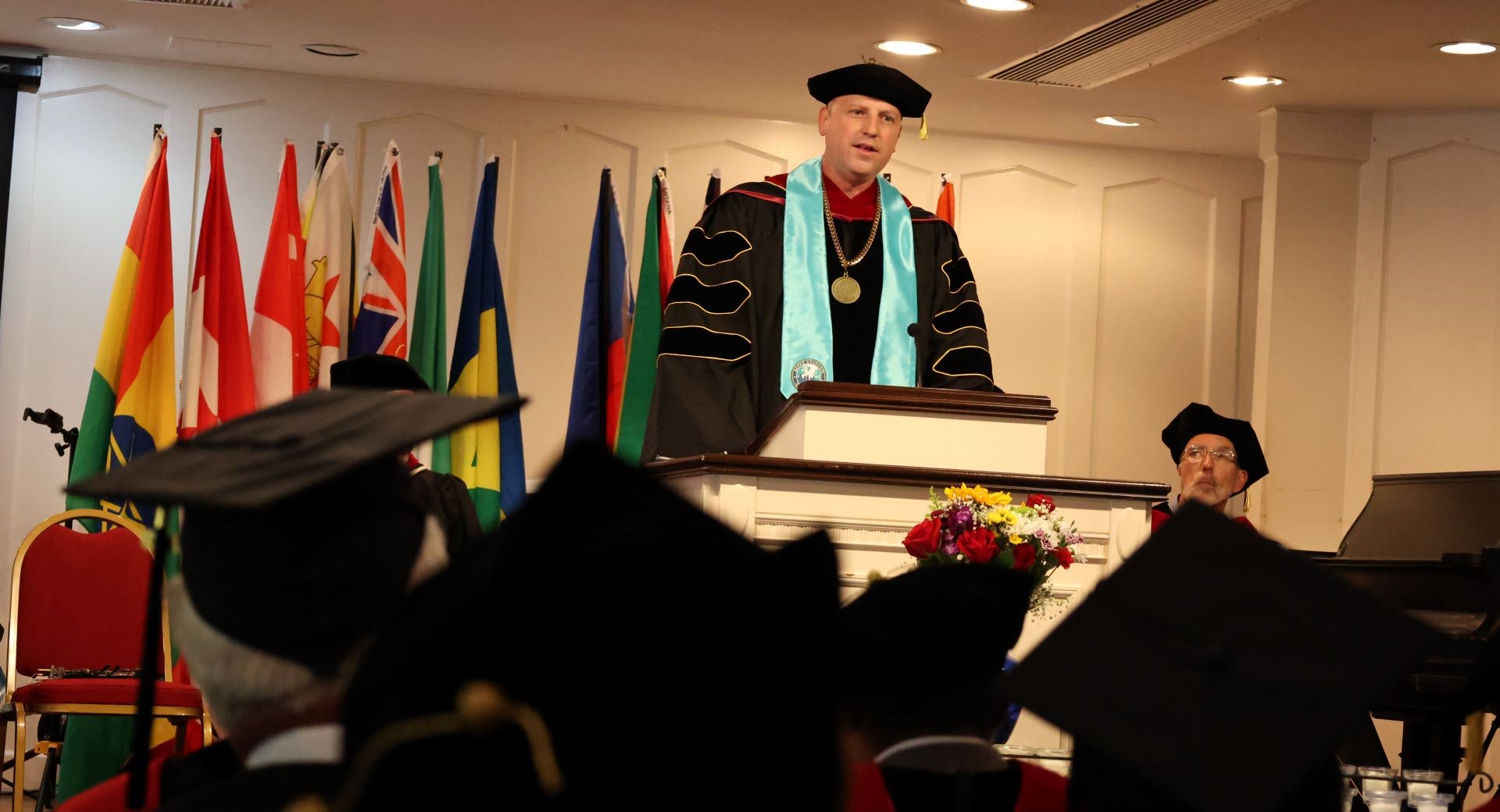 Thankfully, your story, and my story, don't end there. Praise God! In my case, my confusion led me to read books on urban ministry written by people like Ray Bakke and Randy White who were sharing their stories about how they were trying to live out transformational leadership perspectives in places like Chicago and Fresno. I enrolled in my first doctoral course at BGU in 2008 to study under Ray, Randy, and many other passionate leaders like my mentor, Brad Smith. At BGU, I learned that even though we live in a Present Evil Age, we have profound hope because the Kingdom of God is at hand. Although there is tension in having to live and lead during tumultuous circumstances, the life, death, and resurrection of Jesus Christ was the climax of human history, and, as a result, we are fully empowered as we orient our smaller stories with God's Story. God is always on a mission to redeem every person in every place throughout every generation. Followers of Jesus, therefore, have hope.
When I was lost in the early days of my urban ministry journey, I found hope in God's Story. And, I found life, meaning, and purpose in processing through what I was experiencing with the faculty and students with whom I was interacting in online and in city immersion courses. When the news media was telling me how bad things were getting, my BGU professors and fellow students were sharing stories of hope and, dare I say, shalom, or flourishing, in the midst of suffering. These global scholar practitioners were truly making a difference in this world, in the lives of individuals that they were leading, and, also, systemically. Over time, the Holy Spirit transformed my confusion into a resilient confidence. I learned that I was called to the work; that I should be present with the people that I was leading; that I should be reflective; that I should serve others; that context matters; that I'm a global citizen; that I should passionately pursue reconciliation; and that I should boldly speak truth with love to and through power. In short, BGU took a fearful, confused transactional leader and empowered me to serve as a transformational change agent in my city and in places around the world.
Graduates, my story is my own unique story, but I know that many of your stories have been dramatically impacted as you've been empowered by God and by others throughout your learning journey at BGU. We learn from each other, and we become hope bearers to the powerful and the powerless. This is as it should be. I selected Colossians 3:12-17 to serve as our guiding scriptures in this message today.
Put on then, as God's chosen ones, holy and beloved, compassionate hearts, kindness, humility, meekness, and patience, bearing with one another and, if one has a complaint against another, forgiving each other; as the Lord has forgiven you, so you also must forgive. And above all these put on love, which binds everything together in perfect harmony. And let the peace of Christ rule in your hearts, to which indeed you were called in one body. And be thankful. Let the word of Christ dwell in you richly, teaching and admonishing one another in all wisdom, singing psalms and hymns and spiritual songs, with thankfulness in your hearts to God. And whatever you do, in word or deed, do everything in the name of the Lord Jesus, giving thanks to God the Father through him. – Colossians 3:12-17
What an amazing leadership lesson! Graduates, if you take nothing else with you from my talk today, please do your best to passionately live out the words that we just read in Paul's letter to the Colossians. I'll be doing my best to let these scriptures guide me as I help to guide BGU into the future. Let's lead with compassion, kindness, humility, meekness, and patience, bearing with each other when we work through the inevitable conflicts that come with leadership. Let's model radical forgiveness in our divided world. Let's let love, harmony, peace, and thankfulness define our words and actions. Let's immerse ourselves in the word of God, and worship together all the time. I thought about bursting out in song at this section of the message, but, trust me, you don't want me to do that. As my kids might say, my voice is a little "pitchy." Thankfully, a much better singer will be up to close us out today.
Paul's charge is also to teach and admonish. My hope for each of our graduates today is that you will take everything that you learned at BGU and selflessly give what you've learned away. Seriously, give it all away for free! Teach others. To admonish means to caution, advise, or counsel against something. When you see others going down a dark path, intervene. Orient them in the light, in the profound love of God the Father. Roll up your sleeves and go into the hard places of this world, using words and deeds to point people toward Jesus!
I'd like to thank the BGU Board of Directors and our staff, contractors, faculty members, Board of Regents members, alumni, partners, and students for trusting me to lead BGU into the next season. I'd like to thank my wife, Julie, and my children for being so supportive as I step into this new adventure. I'd like to thank Martine Audéoud for mentoring me in academic leadership, and to Brad Smith, thank you for mentoring me in recent years to step into the president role. I'm looking forward to continuing to serve alongside of you. I've received so many kind notes of encouragement and support from people who are part of the BGU family. I'm committed to raising up more leaders in this next season at BGU. A big part of the BGU 4.0 mission is to scale what we're doing, reaching even more leaders across the world by expanding our degree programs, developing low-cost certificates with modular content and training on skills that can be stacked together across a whole lifetime, leveraging innovative technology, providing world class coaching for our students, expanding our partnerships, and developing regional ecosystems in various parts of the world. And, of course, we'll continue to reach more people in more places with our unique city immersion courses, and by offering our life changing content in languages including English, Spanish, Korean, and more. Together, we will accomplish our mission to strengthen leaders who steward resources with and for vulnerable people and places, by means of contextual, Christian-based education innovatively delivered throughout the urban world.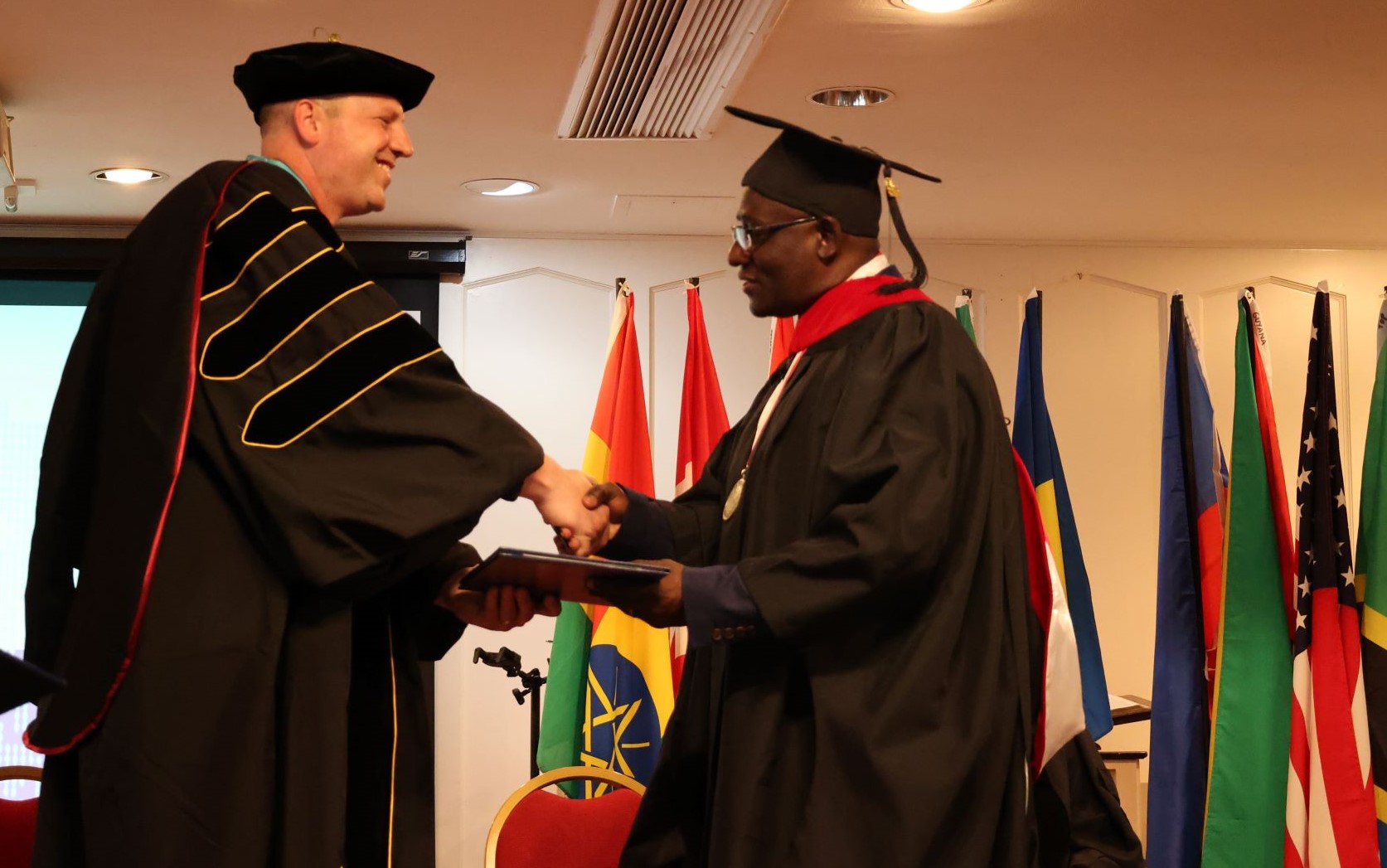 Finally, graduates, I'd like to thank you for all of your hard work and dedication over these recent years. You truly are an inspiration. Wherever you find a BGU student or graduate in this world, you will find someone who will flourish and lead others around them to flourish. You are a part of a globally interconnected community. Build on your connections with each other, even after you've graduated. Seek each other out when things get hard. If you see someone's metaphorical milk carton car fall off the ramp of life, help them to pick it up and put it back together, making it stronger by working together. Together, we will not only scale our impact in the world, but God will work through us to complete his purposes in our personal lives, in our families, in our communities, in the great cities of the world, and in many different countries. May God guide you and bless you as you move forward in life. Your BGU family is with you. We stand ready to jump into support you wherever the Lord leads you next!
Dr. Bryan McCabe
President
June 3rd, 2023