"Courtesies & Protocols"
When are CONGRATULATIONS in order?
My head/brain desires to give you a congratulatory and celebratory speech, but my heart restrains me.
I have learnt over the years to be cautious of celebrations, especially as an African where celebrations are our way of life…but…
Someone speaking about the various ways the Gospel has, rather than transform human societies, has been marred by a HUMAN AGENDA.
To the Jews - RITUAL
To Europe - EMPIREDOM
To America - ECONOMIC ENTERPRISE
To Africa - JAMBOREE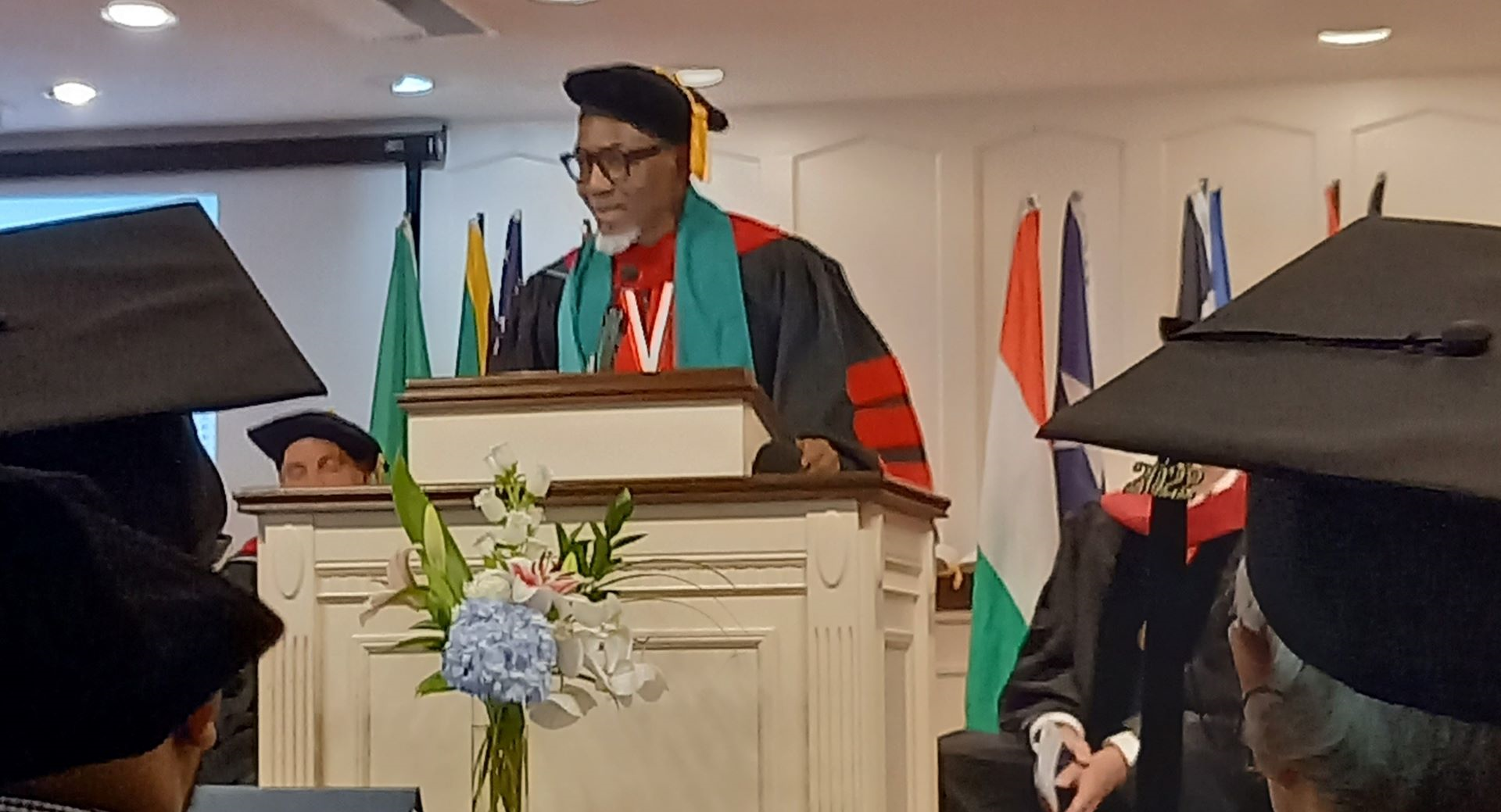 I don't want to send you off on a JAMBOREE TANGENT…but a REFLECTIVE COMMENCEMENT.
My seemingly conflicting message for the BGU class of 2022 is borne out of the UNDENIABLE REALITY THAT THE WORLD IS BROKEN.
HUMANITY IS WEARIED BY BAD NEWS OVERDOSE, which unfortunately is CHURCH INCLUSIVE.
WE ARE IN THE FIRM GRIP OF REDUCTIONISM.
The church has taken refuge in its prayers, but has in reality DROPPED THE GAUNTLET.
There is a screaming silence of consensus suggesting that God has given up on HIS PLAN TO RESTORE THIS WORLD TO THE PRE-FALL STATE.
We now live in a world in the firm grip of lies and the ONLY OUTCOME is destruction of lives…
We live in a world where it has become extremely difficult to believe the truth and easier and more comfortable to believe a lie
We live in a world where the CONDITIONS FOR EVIL TO THRIVE are being met daily…but CONDITIONS FOR THE GOOD AND GODLY TO THRIVE ARE HARD TO COME BY.
We live in a world where all things established by God are being redefined…
We are overwhelmed by state of the FALLEN WORLD and the attendant widespread evil…
 ·      Wars
·       Unprecedented ideological divisions (both liberal and conservative)
·       Institutionalized racism
·       Modern chattel slavery
 All of which are made more complex by the way the church is caught in that web.
There is a CULTURE WAR RAGING - but for the discerning it is HUMANITY SEEKING ANSWERS TO - WHAT IT MEANS TO BE HUMAN. QUESTIONS THAT ONLY GOD CAN ANSWER.
BUT the church is afraid to engage because we lack the will and the words.
We are seeking soft landings, living in denial and BLAME GAMES. We have an "US vs THEM" mentality.
It is time for both to embrace truth and REPENT - BE SINCERE - take responsibility - ASK THE RIGHT QUESTIONS.
Slavery and racism need the right questions; beneficiaries and the robbed need to be sincere.
There is no better medium for GETTING THIS WISDOM OUT than….
Holy Spirit Inspired Research producing Innovative Transformation in these areas. We need a new BRAND OF LEADERS.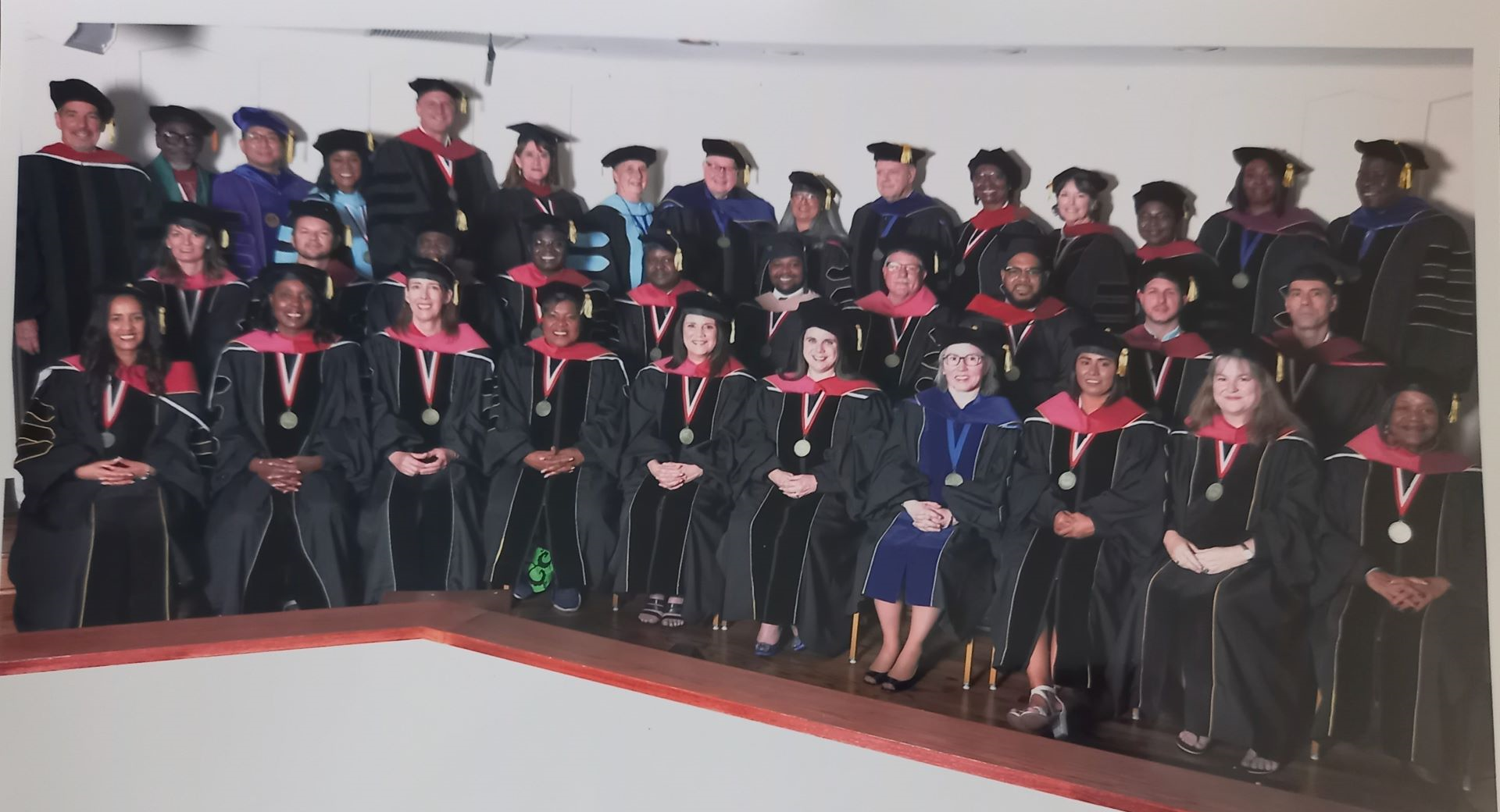 A 2014 Harvard Business Review article entitled "There Is No Shortage of Leaders," raised a point worthy of deep reflection as you transit into a new phase of life.
"Escalating chaos, confusion, crisis, and conflict are not side effects of the leadership we lack. They are consequences of the leadership we have."
 We don't need to more degree holders in leadership studies. We need a different brand of leaders.
My head tells me that you have achieved something remarkable. We have before us new graduates of DMin, DTL, PhD, EMBA, and MATL.
But my heart is instructing me to tell you that THIS IS NOT AN ACHIEVEMENT BUT A RESPONSIBILITY.
So, like the makers of alcohol promote, DRINK but CELEBRATE RESPONSIBLY.
My BGU process and attendant experience shows me that BGU DOES NOT GIVE OUT ACHIEVEMENTS - IT PRODUCES STEWARDS OF GOD'S MYSTERIES.
You'll do well to heed the words of the first century thinker, Saul of Tarsus, who became Paul the sent one… TO BE TRUSTWORTHY.
When I graduated in 2012 (10 years ago) I thought the world was broken, but now I see now that IT WAS BRUISED THEN. NOW IT IS A FALLEN HUMPTY DUMPTY…
QUESTION: How do we fix it KNOWING IT HAS TO BE FIXED?
Now is the time to seek the original design if we are going to stand any chance of TRANSFORMING IT…don't try fixing HUMPTY DUMPTY if you can't know what it was to begin with.
The world is broken and there are many sincere efforts attempting to fix it…
BGU has equipped you with something different and needed, You have been trained to see the world through unique lenses. Although we never registered our original recommended name "Paradox University," we are still a paradox in every sense of the word.
In our sincere quest for SHALOM…we CONTEXTUALLY study spaces, places, people, their culture, their faith through prophetic eyes & global lenses, fueled by deep reflection at INCARNATING proximity not as experts but as servants because of your awareness of your calling.
An undeniable reality today is that the world is groaning for REDEMPTION and more words, research and degrees have not and cannot help.
The world doesn't need to hear more, but it does need to see and experience more.
The world is at the point again where words won't suffice; answers are inadequate; SOLUTIONS ARE NEEDED.
The ANSWERS are in your dissertations; the SOLUTIONS ARE PEOPLE.
SOLUTIONS ARE people…SOLUTIONS ARE NOT JUST ANY PEOPLE; SOLUTIONS ARE PEOPLE WITH TRAINED HEARTS, HEADS and HANDS…those who follow the pattern human of JESUS.
My translation of John 3:16 says, God still so loved the world and is still seeking begotten offspring to give for the salvation of the world - are sharers of God's love for the world - much love to die for it.
HEAR ME, CLASS OF 2022, and BY EXTENSION THE WHOLE BGU COMMUNITY: It is not what Jesus did on the cross that will save the world…it is what humans decide to with what He did on the cross that will TRANSFORM THE WORLD.
I repeat, "Escalating chaos, confusion, crisis, and conflict are not side effects of the leadership we lack. They are consequences of the leadership we have."
Class of 2022, CONGRATULATIONS ARE IN ORDER WHEN and IF…as you RECEIVE your diplomas today, that you know that YOU are NOT RECEIVING CERTIFICATES OF ACHIEVEMENT…BUT CERTIFICATES OF RESPONSIBILITY to COOPERATE WITH GOD IN HIS BID TO RESTORE THIS WORLD.
May the Lord bless, keep you in the Firm grip of His will.
When He speaks, even in a whisper, may you hear like a trumpet.
Dr. Dotun Reju
Professor
June 4th, 2022